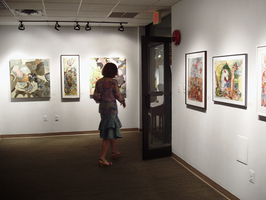 https://www.instagram.com/janedell/
https://www.saatchiart.com/account/artworks/270075
https://artforfilmnyc.com/artists/Jane%20Dell%20(DELJAN)
Jane Dell was born in Brooklyn, New York and began her study of fine art at the High School of Music and Art, received her BFA from Pratt Institute. She furthered her studies at the School of Visual Arts and Parsons School of Design.

She studied textile and fabric arts at Parsons School of Design, created a hand-painted silk business, and exclusively sold work at The Show of Hands Gallery in New York, including commissions for hand-painted silk folding screens.

Dell's current work has been in numerous group and solo exhibitions in the tri-state area and is focused on painting, collage and mixed media. She finds inspiration for her work from the everyday responses to our environment, creating unfamiliar worlds from the familiar using acrylic, oil and watercolor ink with collaged photo imagery. Some of Dell's recent paintings were featured in the December 4th 2020 Architectural Digest Issue. (The Flight Attendant Is an Addictive Thriller With a Flair for Interiors | Architectural Digest).

Jane has been featured in Inside Jersey Magazine, January 2013, "Top Ten New Jersey Artists", Sarah Fensom, and her work has been featured on many TV shows and movies through the Art For Film Agency. Dell continues to be exhibited in numerous group and solo exhibitions at colleges, universities, and museums including solo exhibitions at the Monmouth Musem, Delaware Valley Art Alliance, Jersey City Drawing Rooms and Saratoga Springs Art Center. Dell's group exhibitions include Lesley Heller Workspace, Central Booking Offline Gallery, 33 Orchard Gallery, 111 Front Street in Brooklyn, Theresa A. Maloney Art Gallery, College of St. Elizabeth, and Rutgers University Gallery. Her work is included in the permanent collections of the Hudson County Community College, the Monmouth Museum, NYLO Hotel Gallery, Broadway, NY, RSI Bank, Rahway, NJ, The Dennis Hull Collection, and the International Art Fair, Matera, Italy.